Luke Thompson joined Transmission Private in 2019, having worked in corporate, consumer, and political public relations across the UK. We sat down with Luke to discuss his career before joining the company, what his average day looks like, what makes the company different, and what he has learnt along the way.
---
What did you do before joining Transmission Private?
Luke: I've worked in different forms of communications for over six years. Before joining the team in 2019, I spent 18 months at a boutique PR agency in the East Midlands working with businesses, charities, and public sector organisations. Most of my work was spent supporting small companies in growing their businesses through conventional PR; now I'm working with individuals rather than businesses and the core communications work is very different.
Before that, I spent over three years working in political communications, which is not a bad field for cutting your teeth into the world of media, PR, and communications. Much of my time was spent at the coal-face liaising with the media but also devising different communications strategies for various target audiences – the general public, constituents, and journalists.
Describe what your average day looks like?
Luke: I'm one of the agency's partners, so most of my day is spent engaging with clients and managing their specific programmes of work. We're a pull-your-socks-up type of agency, so we've always got our heads in our laptops – but I wouldn't want it any other way. There's some regularity in what we do, but each client is different which provides plenty of variety to the work. Some clients pick up more media interest than others, so some days are spent on and off the phone with the media. Equally, I could be spending time advising clients via email or over the phone on complex reputational and media issues or checking in with the digital team on other streams of work.
Those days out of the office visiting clients are always fun.
There's also another, non-client aspect to my work. I try to take control of the 'back end' of the business to make sure we have all the systems and processes in place as a team. I love this aspect to the work and it's satisfying being part of that infrastructure building. It's all driven to ensure we maintain high standards of service deliverability and client satisfaction. We're a growing business and we're building a solid foundation in the process. I think I've developed a reputation in the office for being (unapologetically!) persistent on this, but it's our competitive advantage as a business. It ensures consistent standards across the practice and our unique agency know-how is shared across the team.
How is Transmission Private different from other communications agencies?
Luke: We understand the communications needs of private clients better than anyone else in the market.
We only work in this field. We're highly specialised and completely focused on private clients, and this has given us unique insight, expertise, and experience in this sector. Every bit of the agency has been built specifically for families and individuals – from the way we service clients right through to the different strategies we deploy.
Private clients and families have different reputational needs to businesses, so our solutions and services have been designed specifically for them. That's our fundamental difference.
We're structured differently to other agencies too. Our PR team is complemented by an equally strong digital wing. It means we are the best at creating content as well as optimising it for online.

What have you learnt since joining the agency?
Luke: Principally that the reputations of families and private clients aren't measured in the quality and quantity of media coverage.
Google is the first port of call for your reputation as a private client. It's the litmus test of whether you have a good, neutral, or bad reputation – not what you read in a newspaper.
PR is part is an important part of any communications strategy, but we proudly and boldly deploy it differently from other agencies. A positive piece of press coverage is nice, but does it benefit the client in the long term if it's unfindable online? I don't think so.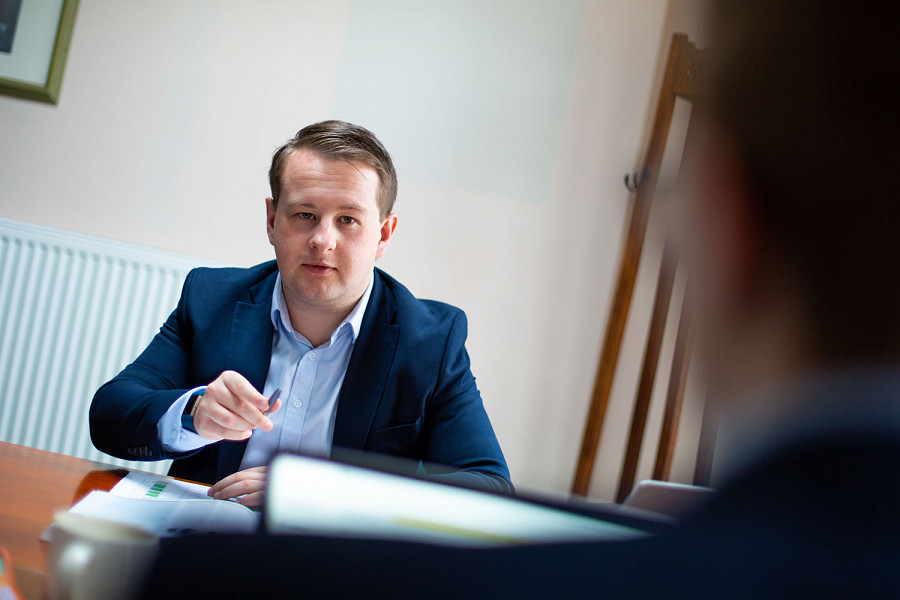 What is distinctive about the way you approach communications problems?
Luke: Several things, but I'll shine a light on two now. Firstly, we pride ourselves on the quality and level of advice we provide clients. This is nothing less than what they expect from us and I always try to press this point upon the rest of the team that the 'buck stops with us'. If a client has a communications-related issue – whatever that might be – we have to solve it and provide bespoke advice on how to approach and navigate it. There's no cookie-cutter approach here.
Secondly, we're completely evidence-led, and commission several pieces of research every year. We continue to poll the public regularly on public attitudes to wealth and successful individuals – and this guides our work. We can't provide our clients with expert advice if we don't back it up with evidence. This helps us to know this area better than anyone else and keep track of emerging trends.
How is working with private clients different from either companies or celebrities?
Luke: The differences are quite stark. Companies are driven by selling and celebrities are driven by promotion. Private clients are typically not driven by either – but by having a fair, accurate, and representative reputation on and offline, often among audiences other than the general public, such as in their private circles, respective industries, employees, and their local community.
The clients I have the pleasure of working with don't want to be on the front page of a newspaper or magazine, and they know we're not publicists. They accept that due to their success, there's latent media and public interest in them, and they want that to be effectively managed and safeguarded. They don't want to be promoted or overexposed to the media, but they do want their positive impact on the world to be communicated and for their digital profile to be recognisable and representative.
Celebrities court the press, private clients don't.
How has Transmission Private changed since the time you joined?
Luke: We've changed immeasurably, but our fundamental values and differences as a business remain the same – we're just getting better at telling more people about them. We also have a bigger team and pulled in people from all different backgrounds, industries, and experiences.
We have also launched new products and doubled down on those we're already known for in the market.
I'm really proud of what we're building. We bat well above our average as a team, and there's a real sense internally that we're building something completely different. We don't want to be like every other PR agency. We're united with a common sense of purpose, and ultimately that will drive the success of the business.
How do you think the communications and private-client market will change over the next 12 months?
Luke: I think wider economic disruptions, particularly the unprecedented impact of Covid-19, will turn the dial on how the wider public view personal and family wealth. There's an increased interest and demand for transparency of private wealth, and now more than ever, there's pressure and appetite of those with wealth to show their positive impact in the world.
With that comes risks but also a range of opportunities. I believe families and individuals, most of whom are having a meaningful impact on the world through business and philanthropy, need to get better at communicating what they're doing. Many have been resistant because they don't want to seek publicity, but there's a new and different way of doing things now that satisfies both elements – one than respects privacy but places their positive impact on the public record in a controlled way.
I don't think the impending economic downturn will harden public opinion in the UK towards private and family wealth negatively, but the spotlight on private clients will arguably shine brighter.